How can Greenlink, the public transit system that serves Greenville County, South Carolina, be made more efficient and more responsive to riders?  And how can it do so within its already modest budget?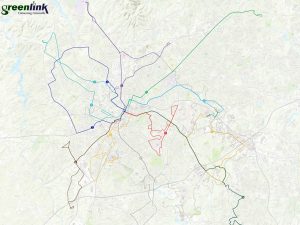 This is one of the key questions of a study currently underway.  The study, called a Comprehensive Operational Analysis (COA), provides a snapshot of the current system: which routes and stops are being the most utilized and when are people riding, which areas have housing and employment densities that will best support transit use, the effectiveness and efficiency of its maintenance and operations, and more. Most interesting, the study will provide recommendations for budget-neutral changes that Greenlink could make to better serve the community.
The COA was one of the top recommendations from the Piedmont Health Foundation's 2015 study of public transit and health and human services transportation.  During that study, it became apparent that Greenlink's routes were designed long ago and had not been reevaluated in years.  Additionally, Greenlink lacked data on where and when riders were getting on and off the buses, which would help staff and the Greenville Transit Authority Board know what is working and what might need adjustment.  The COA, funded by the City of Greenville, County of Greenville, and Piedmont Health Foundation, is designed to provide that important information.
Connetics Transportation Group (CTG) of Atlanta was hired to conduct the COA, with oversight and input from a community steering committee.  They have spent hundreds of hours riding buses; interviewing drivers; surveying riders; leading focus groups with community members, business leaders, elected officials, and others; analyzing data on the community and stop-level ridership numbers; studying Greenlink's maintenance and transit facilities; and more.
The consultants are identifying many needs and opportunities for Greenlink.  However, one of their main charges required that any changes must not cost the system more money than it has available currently.  Policy makers and community members have wondered if the system is as efficient as it could be and whether there are "easy fixes" to better serve residents.
I'm reminded of the scene in Apollo 13 when engineers are charged with figuring out how to bring the incapacitated spacecraft home using only the supplies currently on the ship. A box full of what appeared to be junk was dumped on the table at mission control, and the NASA team got to work.
Greenlink staff and the consultants from CTG have a similar task: serve the community as well or better but with the same old diesel buses, the same inadequate maintenance facility, and the same woefully low level of funding.
Like the Apollo 13 team, I believe Greenlink will be successful.  The skill and passion of their staff and the loyalty of their riders will, indeed, go a long way.
Service change recommendations will be presented to the Board of Greenville Transit Authority this summer, and Greenlink will seek public input on these ideas throughout the fall. I encourage you to take part in this process and help spread the word about Greenlink's plans.
But as you do, imagine what Greenlink could be if it had more than the figurative box full of supplies to work with?  Hopefully, a future-looking Transit Development Plan will answer that question for Greenlink in early 2018.