It's summertime, and while the livin' is generally easy, as a mom, I still seem to spend a lot of time driving people places. Now that school is out, the number one question I'm asked by my fourteen year old is: "Can I go to ___?"
Which really means: "Can you drive me to ___?"
Fourteen is a tough age. My daughter is mature enough to independently meet up with friends for lunch, movies, shopping, and "hanging out." But since she's a year too young to drive and with most places too far to walk or bike, it's hard to make that happen without a ride from mom or dad.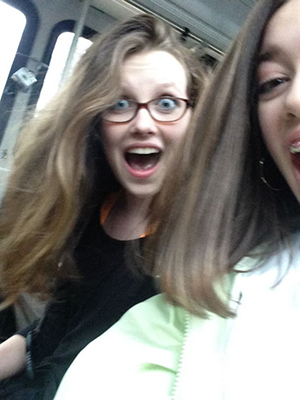 Fortunately, Greenlink, our public transit system, comes through our neighborhood once an hour, and she can ride to our beautiful downtown for $1.25 in ten easy minutes. So I taught her how to ride the bus.
It took some convincing, though. Because here in Greenville County, South Carolina, in our upper middle class neighborhood, the number of folks who choose to take the bus is about as high as the number who choose to travel by rickshaw.
In urban communities, of course, public transit is part of daily life for most residents – students in particular. More than 15,000 students in Boston ride the T to school each day, using passes provided by Boston Public Schools. In 2012, Minneapolis Public Schools moved nearly 5,000 high school students from school buses to the metro bus system. Students in urban communities use public transit for education, work, recreation, and anywhere else the bus or train will take them.
Liz Seman, Executive Director of Corporate Engagement at Furman University and a member of Greenville County Council recalls her experiences as a teen in a more urban community. "Growing up in the Chicago area, using public transportation was second nature," she says, "Whether it was taking the train into the city to visit my Dad at his office (or to see a Cubs game) or hopping on the bus to get from one end of Michigan Avenue to the other, public transportation made navigating the Windy City a breeze!"
But for car-owning families in the Southeast, public transit just isn't "a thing."
However, at least in my relatively urban neighborhood, teens who can't drive or don't have a car do have a choice. They could ride a bus.
But as our study of public transit and health and human services transportation showed, the majority of Greenville County teens live in more sparsely populated suburban areas far from public transportation. Those without a car or a ride will find themselves stuck at home.
It's disappointing for a teen to miss a movie or lunch with a friend because they couldn't get a ride. But consider the opportunities that so many students without any transportation miss.
Summer volunteering, which is often the first building block of a teenager's resume.
Summer enrichment, whether it's a theatre camp or music lesson or team sport.
Summer employment, which can boost a teen's income, financial literacy, and later employability.
Summer freedom – the sense that there is a world beyond one's home and neighborhood, a world that he or she can navigate without the help of mom or dad.
In our community, Momentum Bike Clubs are side-stepping the absence of robust public transit in low-wealth neighborhoods by connecting middle schoolers with biking. These kids are pedaling all over Greenville County, seeing mountains and farmland they never knew were just a few miles from their homes.
But wouldn't it be great if these kids – and teens all over – could put their bikes on the front of a bus and go even farther? It's part of what MDC calls the "infrastructure of opportunity" for the next generation.
As a mom, I for one would be delighted to stay in the hammock (ha ha!) instead of firing up the family shuttle yet again.
Fortunately, my daughter has come around and sees the benefit of riding in the air conditioned bus to go places when I can't (or won't) take her. I just wish that were possible for more kids (and their parent chauffeurs).